Meet The Pastor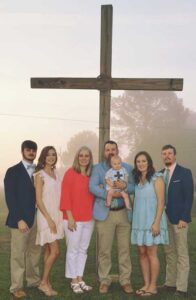 My name is W A Creech and I am just a country boy that grew up in Fuquay Varina. While working with youth at my home church, Kennebec Baptist in Angier North Carolina, God called me to do more.  With answering His call, I became a youth pastor. God again called me to do more, so I pastored my first church for four years as a bio vocational pastor.  At this time, I have now been called to be the Pastor at Concord Baptist Church. My family and I are excited to see how God is going to use us at Concord.
My wife Laura grew up in Garner North Carolina, and we have been married for 23 years.  God blessed us with two daughters, a son through love, and now our first grandbaby.
Our desire is to love Jesus and make him known to everyone that we come in contact with. We also want to help others grow in a healthy relationship with the Lord Jesus Christ by helping them to KNOW Jesus as their Lord and Savior.  We then want to help them GROW in a relationship with Him, Give to His local church, to missions, and to challenge them to GO wherever He may lead.  Please come visit us and hear the message of God and His son Jesus Christ.
In HIS Service,
Pastor WA Creech