Vacation Bible School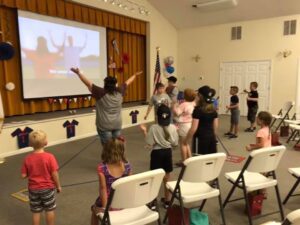 Each year during the summer, our church hosts a free program, VBS, designed to teach the gospel to children in a way they can understand. This exciting ministry serves both the children of our church and the children of our community. 
VBS is the highlight of every summer!
VBS programs teach children through song, dance, crafts, play time and most importantly through learning about Jesus during lesson time. Typically VBS occurs in the evening with dinner followed by vibrant faith filled fun that create lasting memories for not only our children but adults too.